IMPORTANT
On this page you will be able to learn how to download our ship's tracks, our GPS tracks ashore (road trips and hikes) and anchorage waypoints from the Google Maps. This information is FREE but use it at your own risk, considering that the tracks were saved in low resolution and an error of up to 20 metres can occur. So if dealing with a narrow passage or sailing between coral heads, do not trust it! Please note that we like to take advantage of SY L'Envol's shallow draft of 1.2 metres and some of her anchorages would not be suitable for boats with deeper drafts.
In Patagonia avoid two hiccups: GPS 54 0.79 S 72 19.1 W and GPS 41 59.23 S 72 27.53 W, the track would be passing right on top of the rocks we hit!
How to download the GPS tracks and waypoints from our Google Maps (.kml)
Tutorial
1- In the top right corner of the Google Maps, click on the icon to view larger map in a new tab. Android: if using an Android device, the map will automatically open in the Maps App. You cannot download the tracks using the app. To avoid this, simply copy/paste the link of our Google Maps into the address bar of your web browser: https://www.google.com/maps/d/viewer?mid=12FukaONlwu7osSy30drmN0dTFQ4
2- Once the larger map is displayed, click on the three points

3- In the menu, select «Download KML». Note: if you would like to download ALL our GPS tracks and anchorage waypoints, pass from Step 3 directly to Step 6.

4- In the dialogue box, click on the arrow next to «Entire map» for options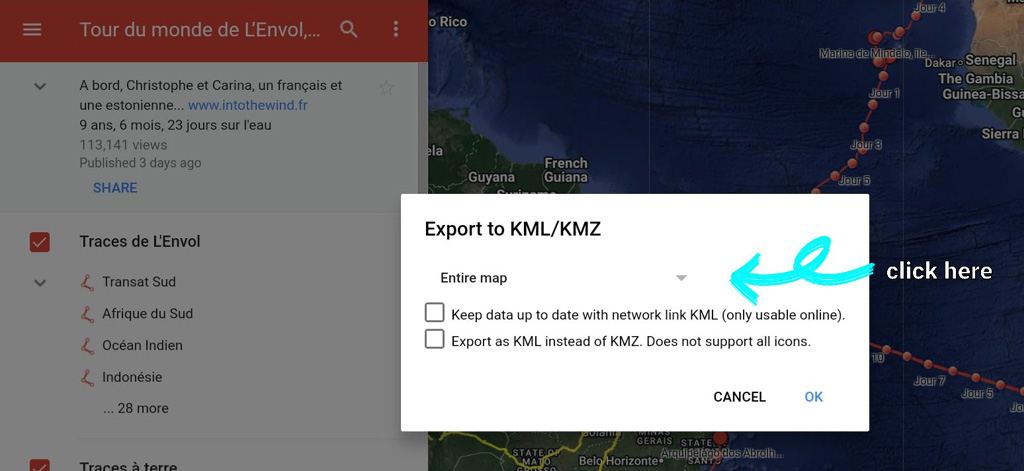 5- In the menu, choose the desired option. Note: for our ship's tracks, you will have to select the category «Traces de L'Envol», whereas the waypoints are given separately by geographical area. For example, the category «Océan Pacifique» will show all our anchorages in the South Pacific. For downloading our GPS tracks on land select the category «Traces à terre». Limitation: Google Maps will allow downloading all the waypoints or tracks in the selected category. It will not allow downloading a single waypoint or track.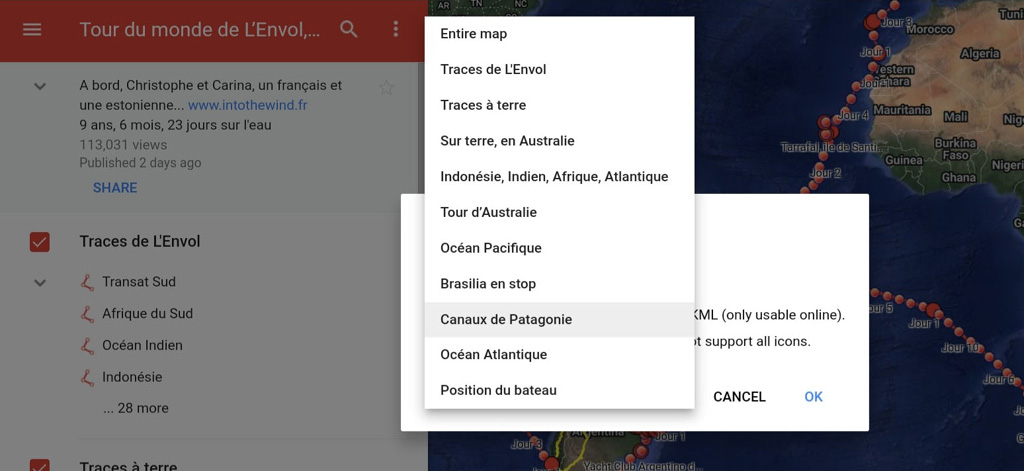 6- In the dialogue box, tick «Export as KML…», then click OK and the download will begin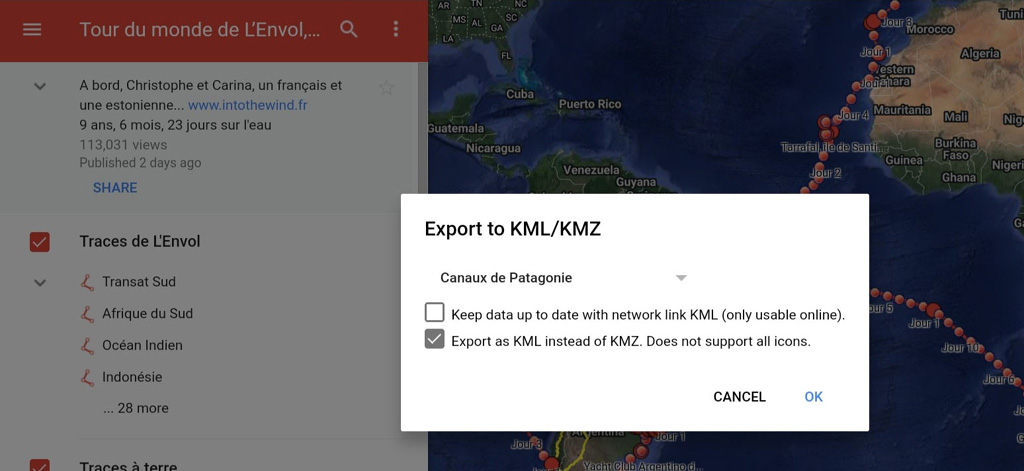 Close
Terra incognita
Needless to say, our GPS track looks like a thread in what, in reality, is a tapestry of possibilities and cruising destinations. This bigger picture is more fascinating than anyone's track, especially in areas like Patagonia, South Pacific or Australia.
In 2015, Christophe began a small research project, converting two fat cruising guides on Patagonia into an all-inclusive waypoint cloud in our navigation software. The sources for building such a data-base became a more eclectic collection as we sailed into the vast Pacific where our 25-footer spent over three years. The Pacific waypoints include information from nautical guides, blogs, word of mouth of sailors', personal experience, etc.
The result of this work are .gpx files for different areas, which show thousands of navigation aids and waypoints, making it a smart planning tool for sailors undertaking a Trans-Pacific voyage.
While circumnavigating Australia, L'Envol made 230 stops (these waypoints are free to download), but the cluster of all the aids and anchorages includes 2359 waypoints! This .gpx file is for sale in our Shop for a nominal price. Same for our Pacific Ocean crossing, which counts only 175 stops vs the .gpx file of 2049 waypoints. For those intending to cruise Patagonia the advantage is just as obvious: the patrons would have access to 1275 waypoints, so much more than those 90 anchorages we visited with L'Envol.
Check out the links below for purchase and other information:
Safe travels and great explorations!
Christophe + Carina
SY L'Envol