Pacific Diary VII: Satellite bottles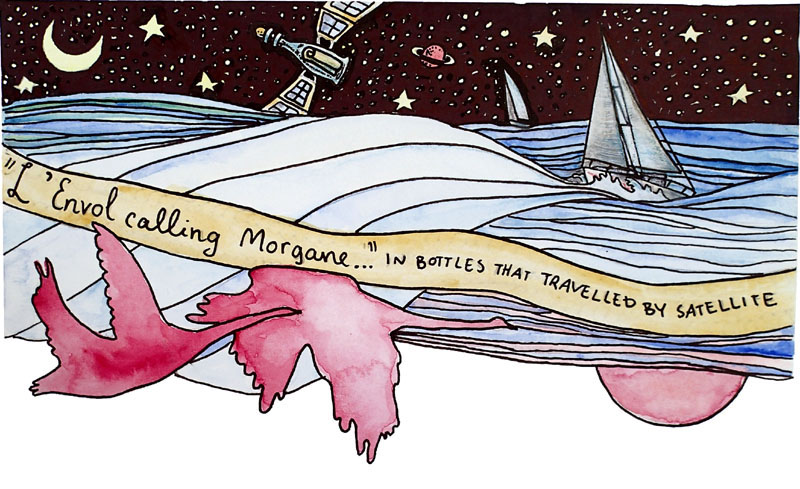 The leg from Fiji to New Zealand cannot be taken lightly for several reasons:
It makes us descend from kind tropical latitudes down south where serious storms and up to 10 metre swells may occur;
The course from Fiji lies SSW which with the prevailing SE winds makes it an uncomfortable upwind sail;
1000 nautical miles separate us from the closest port of entry, Opua, in the Bay of Islands, meaning for L'Envol 8-9 days at sea. Calculating the weather on arrival is not so evident when forecasts are only accurate for up to 5 days.
And yet that is where we are bound for, eager to escape from the tropics for the cyclone season 2017/2018.
Summer is about to begin in the southern hemisphere. The weather forecast shows a stationary high pressure area settle in the very centre of New Zealand promising us a sustained flow from SE for the whole week. With this high we are very likely to have light winds upon arrival and no bad surprises – we'll take it!
Our friends, Chris and Paula, whom we know from Patagonia, have a similar goal. Except that they have both found work in New Zealand and are now living in Christchurch on the South Island. Meanwhile their 10 metre steel yacht Morgane has been waiting for them in Fiji. It is the third time our paths cross in the Pacific – a happy reunion followed by L'Envol and Morgane departing Fiji on the same day.
Copied below are messages we exchanged with Chris and Paula via the satellite while underway.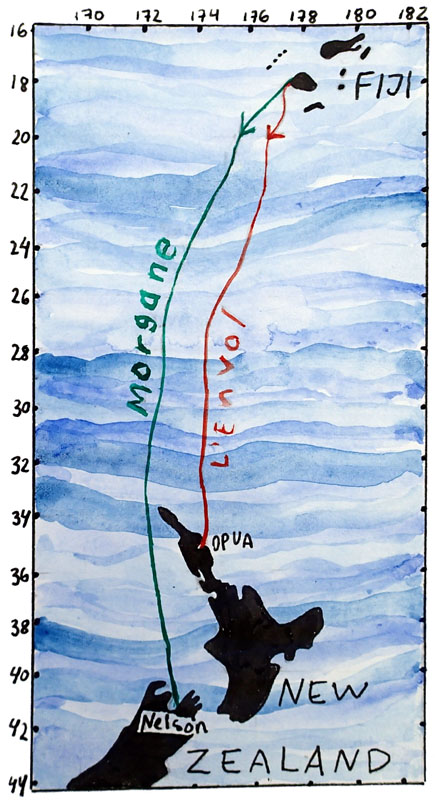 Day 1
> L'Envol's position
> at 18:42 UTC 21 Nov, 2017
> 19 51.84 S 176 48.41 E
> Course 170° true
> In last 24H sailed 125nm
Close hauled. Had rain for 12 first hours. One other sailing boat left Momi Bay ahead of us, maybe going the same way. They have AIS.
Day 2
> L'Envol's position
> at 18:42 UTC 22 Nov, 2017
> 22 6.9 S 176 27.2 E
> Course about 210° true
> In last 24H sailed 139nm
Bouncy conditions continue.
Day 3
> L'Envol's position
> at 18:42 UTC 23 Nov, 2017
> 24 25.67 S 175 43.26 E
> Course about 200° true
> In last 24H sailed 146nm
L'Envol becomes a submarine going through the waves. Impossible to be in the cockpit without getting soaked. Some greenies get their way in through the textile door. But we're close reaching now and it's a bit more comfortable.
I was seasick for three days, feeling better.
Day 4
> L'Envol's position
> at 18:42 UTC 24 Nov, 2017
> 26 53.16 S 174 49.64 E
> Course about 190° true
> Managed to sail 156nm in 24H. Our best distance on this leg so far!
L'Envol is close hauled again, but there is less wind, so it is not as bad as on the first passage days. Wind direction looks better for the future, hope reality matches forecast. The night was more or less stable, no squalls. Socks go on, we sleep under blankets for the first time after Patagonia!
Day 5
> L'Envol's position
> at 18:42 UTC 25 Nov, 2017
> 29 7.55 S 174 34.67 E
> Course about 183° true
> In last 24H sailed 136nm
The winds were moody yesterday, so just kept the reefs in, but the seas became smoother and L'Envol had less heel allowing Christophe to sleep on the bunk for the first time (surely more agreeable than at the bottom of the companionway). Had a strong squall at 2AM which took our windvane from the top of the mast.
On the menu: Inspired by Paula's quick breads we had a nice breakfast to celebrate the beam reach! Pumpkin soup coming for lunch.
Day 6
> L'Envol's position
> at 18:42 UTC 26 Nov, 2017
> 31 16.21 S 174 25.94 E
> Course about 183° true
> In last 24H sailed 129nm
We're enjoying more relaxing sailing conditions even if it does not give us more record speeds. Staysail was replaced by genoa yesterday and we've been sailing under full canvas since. Had an episode of fresher winds in the evening and reefed down for that, but it was short.
Butter, cheese and chocolate are all hard like out of the fridge ‐ that's the first time after Chile!
Just a mile ahead of us is a sailboat Carola also making its way to Opua ‐ we'll be passing them very close in a short while.
We've sent to the NZ customs our 48h notice of arrival ‐ expecting to be in Opua on Wednesday, Nov 29.
Day 7
> L'Envol's position
> at 18:42 UTC 27 Nov, 2017
> 33 29.53 S 174 17 E
> Course about 183° true
> In last 24H sailed 133nm
We were expecting to sail at a nicer wind angle but that never really happened. A brief episode of beam reach on Sunday, the rest has all been close reach at around 70 degrees (except for the first day where we were pinching up into the wind). There has definitely been more south in the wind than forecast.
No complaints though, apart from the rough beginning, the sea state has been smooth and the squalls few.
Carola has already disappeared from sight. Our 25 footer going against the giant of 43 – the race was on! We sailed side by side all afternoon but then as the winds eased Christophe shook out that final reef and L'Envol, champion of light breeze, overtook our rival in no time! A satisfying experience.
Even though we've been devouring fruits and veggies to leave the biosecurity empty handed, it is hard to tell with these fading winds if we'll make it « on time ».
The steam cake just went into the pressure cooker, feedback tomorrow!
Day 8
> Arrived to Opua in New Zealand
> 29 Nov, 8:30 UTC+13 (local time)
> Sailed 118nm in 25H
Dear Chris and Paula,
We have made it! Hope you are having a good sail to Nelson.
L'Envol had the gennaker up for about six hours but near the entrance to the Bay of Islands we got a very fable breeze from dead ahead. No taking the easy way out, the motor stayed dry while we tacked all night. Then the cursor of our Toughbook got paralysed in the middle of the screen leaving us without the mouse. I took photos of the electronic charts just in case anything else was to go wrong. But it didn't and we happily reached Opua at 8:30AM.
It was so cold that we had all our clothes on, including hats and gloves.
The customs were efficient and fast, the biosecurity wanted to see every storage space, took our garlics, ginger and onions, the rest we had managed to eat.
We wanted to stay at the quarantine dock till next morning, we were just so tired, but that was not possible.
For now L'Envol is anchored in front of Russel, but drinking water is difficult to find here and there is no free internet. We're hoping to find a better spot somewhere else.
See you in Christchurch!
C+C
P.S. Fixed the computer – the problem was in the touchscreen. Turned its driver off and have our mouse back – easy!
P.P.S. The cake came out super, we ate it all up the same day. Thanks for the recipe!