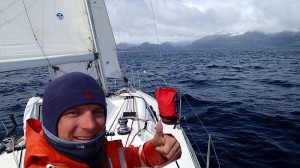 Christophe Mora (born in 1973 in St Martin d'Hères, France), since 2013 captain of SY L'Envol.
I like the wilderness of the elements and the solitude, there is no other boss for me but the nature.
A mountaineer and a professional alpinist, I earned my living in the French Alps as a mountain guide and ski instructor. I taught self sufficiency and risk management. Aside from that I flew – long distance paragliding was my passion for ten years.
In 2007-2008 I crewed on different boats to sail from Cape Vert to Brazil and up the Amazon river – in eight months I made a tour of the Atlantic Ocean. I felt that my place was on water, there were so many things to learn! I wanted to become a captain and to journey around the world on my own boat.
In 2013 that wish materialised in a project I called « Into the Wind », on a 25 foot sailboat I called « L'Envol » (in English – « Take Off »). It started out as a community where anyone who was willing could join me for different parts of the trip, yet I soon realised that neither my personality nor the size of the boat were up to it. In Puerto Williams I met Carina and we continued the voyage as a couple – it was as if a dream within a dream had come true…
The story begins here: Emménagement en Bretagne (in French)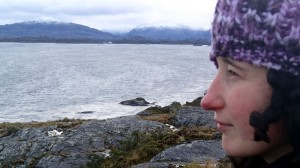 Carina Juhhova (born in 1981 in Tallinn, Estonia), since 2015 crew of SY L'Envol.
I am drawn to the horizon, I feel joy in the movement, I find meaning in the crossroads with other people.
In twelve years (2000-2012) I hitch-hiked the roads of 58 countries to finally end up in Puerto Williams – the southern most town of Chile and the world. When all lead to think that I would stay there for good, I met Christophe. Then I knew that Puerto Williams had been nothing else but a waiting room. In May 2015 our lives continued together aboard L'Envol.
I have no sailing experience, Christophe has been a captain for just one year and we are going to sail the Patagonian channels in winter…
The story continues here:
Letters in a bottle (in English)
To read about my past travels (2007-2015) see:
www.followcarina.blogspot.com (in English)