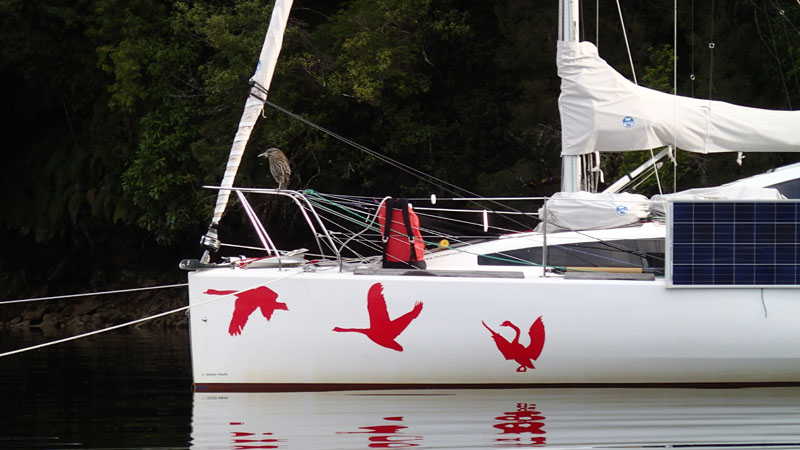 sy L'Envol
Design : Django 770
Designer : Pierre Rolland
Ship builder : Marée Haute (France)
Construction material : Glass fibre
Length : 7,7 m
Beam : 3 m
Draft : 1,2 m
Keel : Twin keel
Weight (light ship) : 2 t
Engine : outboard 10hp 2 stroke
Mainsail : 20 m2
Genoa : 15,6 m2
Delivered : 2013
Django 770 is made by a small French shipyard « Marée Haute » based in Trégunc near Concarneau in South Brittany. Sailboat L'Envol is a Django 770 number 36, built between May and August of 2013, with the owner, who had a circumnavigation in mind, involved in the process.
The result is a modern yacht of 25 feet (7,7 meters) designed to be a fast cruiser of category A (the most rigorous of the four seaworthiness classifications). The boats of this category need to be able to face the conditions of winds that exceed Beaufort F8 (62-74 km/h) and significant wave heights of 4 meters and above. So despite her size L'Envol is a strong boat !
Characteristic to contemporary boats the vertical lines of bow and stern make the 7,7 meter hull also her waterline length – the same as on many 9-10 meter boats. This adds to her seaworthiness : L'Envol is not as little as she appears to be !
For her modest overall length she has a wide 3 meter beam and an interior headroom of 1,7 meters, which gives a comfortable living space for two or even three people.
Light, with a large sail area, she sails even with little wind. The outboard motor is reserved for the manoeuvres of the port. Her planing hull makes the boat easily surf onto the plane making the following waves accelerate her flight when sailing downwind. The twin rudders give directional stability together with the hull chines which bite into the sea when beating upwind. L'Envol is a good cruiser with the performance capacities and sensibility of a racer, fun and easy to manoeuvre even single handed.
Equipped with two keels with streamlined bulbs at the base make it possible to beach her at low tide (assisted with an aluminium grounding leg that attaches to the transom). Her draft of just 1,2 meters has allowed L'Envol to go up several rivers in Brazil and tie her close to the trees when seeking protection from the winds in Patagonia.
Read more:
Into the Wind
Small boat on a big sea